Feb 10, 2023 06:30 PM

–

Feb 10, 2023 07:30 PM

Central time
VIRTUAL BINGO!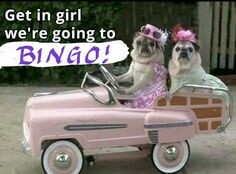 O.K. so this is how it works!
1. You Register on www.OurHealthyHomes.com (button below) that will tell me you want to play.
2. I will reach out to you and see if you can print your own card
(then I would email your bingo card to print or if you can't then I would mail you one)
3. Share with all your friends - *******most important*******
4. It will be LIVE calling on Zoom
5. Prizes will be mailed.
6. Grab a class of NingXia, wine, whatever. . . . .
7. Take a "FUN" break (even though you have probably zoomed more than you want, this will be live and fun)
8. Login information will be emailed or texted to you and posted in the Healthy Home Bunch Private Facebook Group -(this group is for customer & brand partner's only)
9. Any questions reach out to me - Sheila 651-775-9194
Sheila Hittner
Realtor, Healthy Home Advocate, Author & YL Brand Partner
FREE SAMPLES/SHOP

at www.OurHealthyHomes.com
MY Referral | Enroller | Sponsor #2338372
651-775-9194